Plats: Helsingfors, Finland. Skrivet av: Pilvi Vanamo Foton av: Anna Autio
Den gångna veckan har varit full av utmaningar och arbetsglädje. Veckan innan fick vi förstärkning av Louis, en klipsk arkitektstudent med stort engagemang, som kommer ta över projektledningen av bygget när alla andra lämnar. Vi hade en hel del lösa trådar som skulle knytas ihop ungefär samtidigt; perforerade väggar runt vattentankar, ringbeams, putsning av korridorväggen, takränna, rör, fönster, dörrar och takplåtar. Byggteamet förstärktes med tre byggare som putsade korridor- och terrassväggen och tre snickare som hjälpte till att montera den första leveransen av dörrar och fönster samt fästa de sista takstolarna. Rännan levererades och provmonterades på plats. Målet – att få taket på plats till helgen – visade sig vara för optimistiskt, men med samlade krafter lyckades vi sno ihop det mesta och kan nu känna oss stolta och nöjda för resultatet som gör sig mycket bra både på bild och på plats.
Veckan var också min sista vecka på bygget och med en blandning av glädje och sorg har jag nu lämnat stafettpinnen till Eva, Conny, Christine och Louis som bland annat kommer se till att rännan monteras korrekt med vältätade skarvar och taket kommer på plats ordentligt.
För att fira framgången på bygget arrangerades det en stor avtackningsfest på lördag med getbarbeque (kallas också tårta på swahili) och svensk-tanzanisk hot dog/pilaubuffé för alla inblandade. Barnen fick leka, busa och sjunga bravurnumret, Nauses Hungry Hearts: "we are the kids with the hungry hearts/and they will never keep us apart". Under Annas vägledning har barnen under tiden vi har varit här byggt sina egna drömhus av lokalt tillgängliga, hållbara material såsom kartong, plamblad och sisal. Dessa togs med till tomten och fotograferades med Kilimanjaro skymtandes i bakgrunden – symboliken i stunden var slående.
Utan tvekan har dessa sex veckor varit något av de häftigaste och mest lärorika jag någonsin varit med om. Tiden har varit full av utmaningar, både byggtekniska och sociala, men också av skratt och glädje. Jeffrey, en av våra värdar och en amerikan som har bott i Tanzania länge sa något som för mig beskriver kärleken till landet mycket väl: "It's the struggle". Ständiga utmaningar, enkla – även primitiva – omständigheter och närheten till naturen skapar stora känslokontraster, och lyckan förstärks i små vardagliga händelser och i kontakt med andra människor. Med risk att låta klyschig vill jag uttala min djupaste tacksamhet till alla som har hamrat, murat, svetsat, borrat, kapat, burit, grävt, målat, putsat, klättrat, slaktat djur, lagat mat, förhandlat, fotograferat, tolkat, gjort rätt från början, gjort fel och gjort om, vaknat med tuppen, åkt motorcykel utan hjälm och taxi på gropiga vägar, suttit i svettiga dala-dalan med en höna i famnen, burit med sig 4 miljoner shillings i ryggsäcken, samlat på och bokfört kvitton, helt enkelt till alla som har gjort detta möjligt.
I väntan på eftermiddagens fest    
  Brian släpper loss på cykeln    
  Clinton passar bollen    
  Husna hoppar hopprep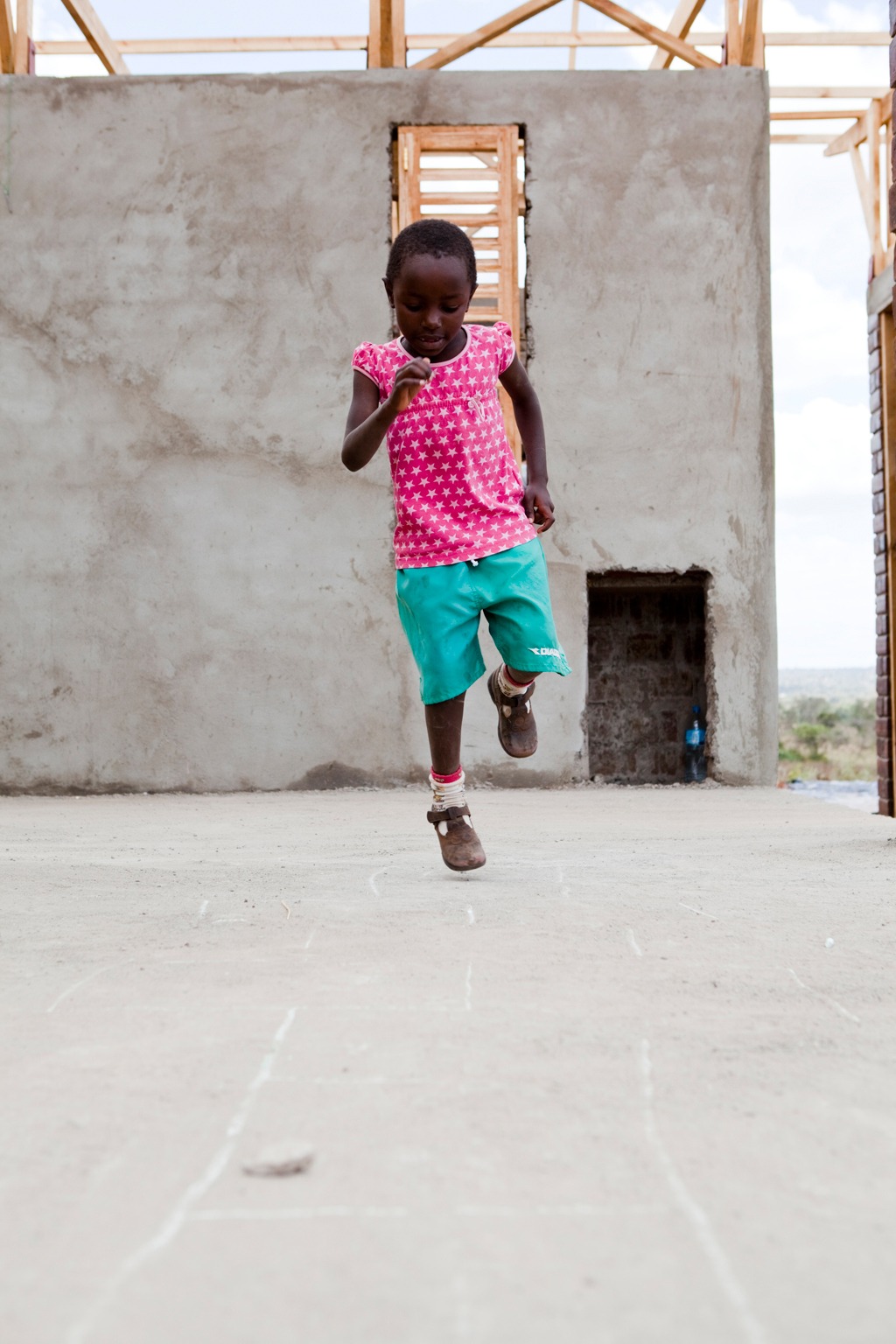 Naomi hoppar hage    
  Tjejhäng på terrassen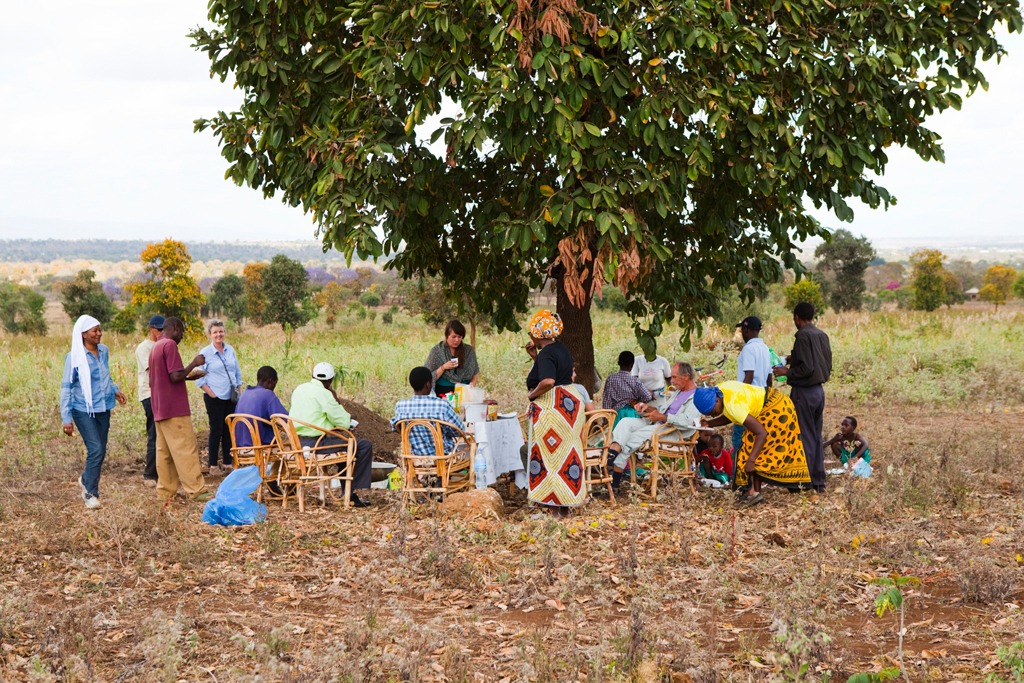 Buffén dukas i skuggan    
  På menyn: Getbarbeque, pilau, hot dogs och sallad    
  Minstingarna Jackson och Clinton tankar efter leken    
  Barnen med var sitt egenbyggda drömhus    
  Fina avtackningsceremonin    
  Fotografen Anna får en kanga och en kram från Selina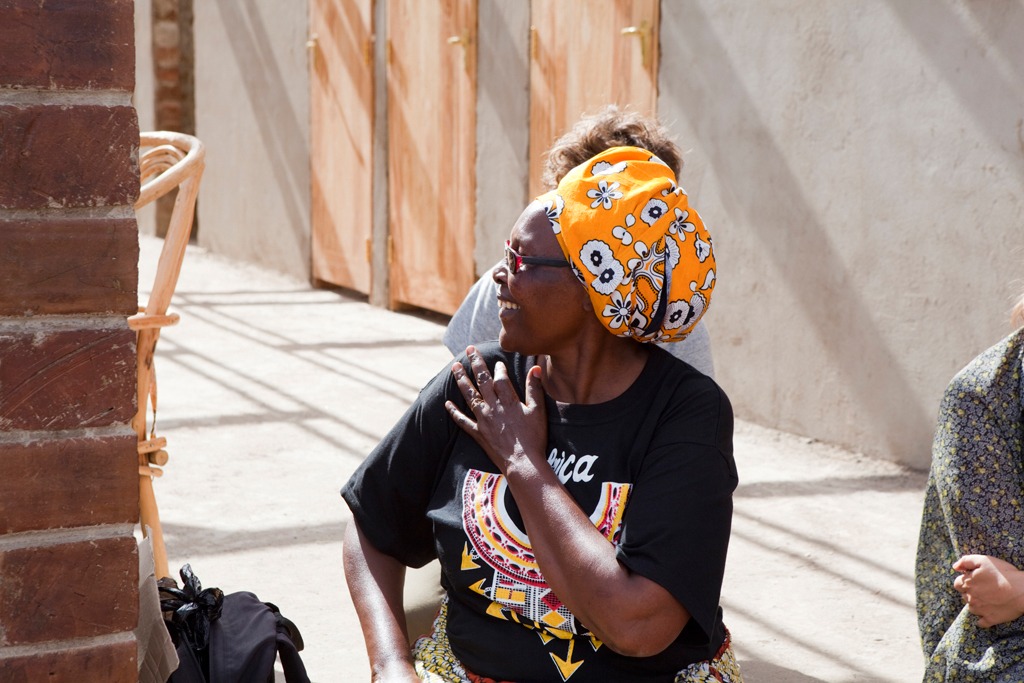 Caroline håller tal    
  Grupporträtt av dagens hjältar    
  Farvälspresent från Exaudi    
  Prototyphuset  
Fortsättning följer…nästa vecka: taklagsfest!